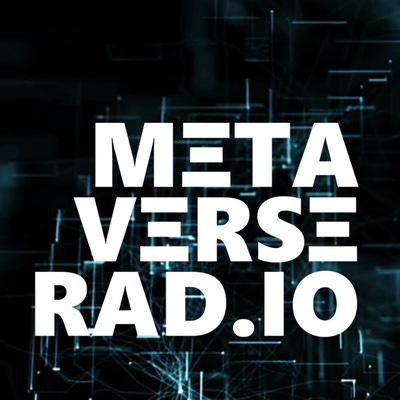 Mar 2, 2022 • 53M
METAVERSE SOUNDCHECK conversation with Alpha23, a dynamic one-of-a-kind rap star from Atlanta, GA (USA); speaking from Atlanta, GA (USA)
Metaverse Radio for WEB3 sounds BROADCASTING NOW: WMVR-db Chicago and the Metaverse. Community of interest includes, among others: independent musicians, visual artists, philosophers, futurists, science fiction aficionados, gamers, computer scientists/programmers, digital designers/coders, and persons interested in artificial intelligence and blockchain technology. Metaverse Radio encourages the decentralized assent of human creativity, focusing especially on quality, interoperability, and interactivity of auditory senses within both the IIID digital landscape and our physical life existence.
The 2nd episode in the METAVERSE SOUNDCHECK series, from the Metaverse Radio Podcast:
In depth, insightful, and free flowing discussion with the dynamic rapper from Atlanta, Georgia (USA), Alpha23. Having roots in spoken word lyricism, framed by a rich heritage of southern hip-hop, and inspired by the classic flow of musical legends over the last several decades, Alpha23 is not a newcomer to the music scene, as his talents have already propelled him to top rankings over the last several years on various social media and music platforms. He successfully harnessed web2 and now, more recently, he's embraced the web3 ecosystem and is clearly leaving an early mark in the Metaverse. Listeners of Metaverse Radio are familiar with several of his recent releases – whether the focus is relationships, gender topics, boss talk, religion, or competition – the subjects are skillfully stylized and delivered to us in a soulfully rhythmic manner. Suffice to say, he's got crazy bars and is one of the most talented lyricists anywhere. His music simply must be heard.
About Metaverse Radio
Headquartered in Chicago as part of the Metaversal Vision Network, Metaverse Radio provides a persistent digital audio broadcast that is highly accessible, whether by call-2-listen landline or cellular telephone, internet stream, mobile software applications, smart speaker systems, smart television systems, or from within the web3 itself. Efforts are ongoing by Metaverse Radio to complete network construction of its operationally connected radio stations dispersed throughout select metaverse platforms.
At the heart of Metaverse Radio's broadcast programming and greater multimedia activities is the belief that the Metaverse is, at its best, an international gathering place for humanity and that the official language of the Metaverse is music. A Limited Liability Company, Metaverse Radio bills itself as, "the future most accessible radio broadcast in human history." For more information visit www.metaverse.radio or follow on Twitter (Twitter.com/metaverse_radio) or Instagram (Instagram.com/metaverse_radio).
Metaverse Radio is a strong proponent for the use of Metaverse Cyber Time (MCT), the time zone now dedicated for the Metaverse (cf. www.MetaverseCyberTime.com).