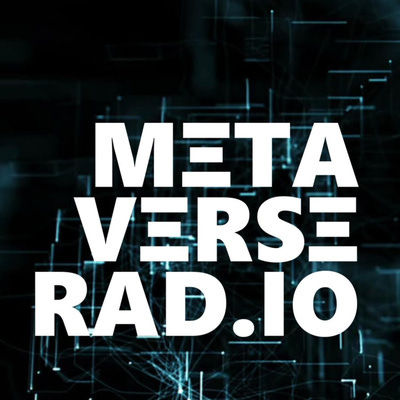 Mar 1, 2022 • 39M
METAVERSE SOUNDCHECK insightful conversation with veteran hip-hop producer, performer, and early leader within the Metaverse music movement, Jason Schadt aka Vandal
Metaverse Radio for WEB3 sounds BROADCASTING NOW: WMVR-db Chicago and the Metaverse. Community of interest includes, among others: independent musicians, visual artists, philosophers, futurists, science fiction aficionados, gamers, computer scientists/programmers, digital designers/coders, and persons interested in artificial intelligence and blockchain technology. Metaverse Radio encourages the decentralized assent of human creativity, focusing especially on quality, interoperability, and interactivity of auditory senses within both the IIID digital landscape and our physical life existence.
First-ever Metaverse Radio Podcast ("METAVERSE SOUNDCHECK"):
Insightful conversation with veteran hip-hop producer, performer, and early leader within the Metaverse music movement, Jason Schadt aka Vandal. Hailing from Toronto, Canada and now based in Lisbon, Portugal, Vandal is the founder of DAOrecords, an innovative platform that provides creatives with the tools and services necessary to compete at the leading edge of the Music Industry. Additionally, Vandal recently deployed the VanDAO on the NEAR Protocol to facilitate Defi and allow for seamless minting and selling of Audio NFTs. Beyond influencing the future direction of music and the Music Industry, Vandal is well-known for his strong penmanship, hot 16's, and captivating performances — all of which are aptly on display in his now iconic song and accompanying music video, "Toss a coin." His most recent collaboration with the legendary DJ Lethal Skillz is, "Still Rap Crypto," a powerful track dedicated to the pioneers of crypto; the song has been minted on Opensea.
About Metaverse Radio
Headquartered in Chicago as part of the Metaversal Vision Network, Metaverse Radio provides a persistent digital audio broadcast that is highly accessible, whether by call-2-listen landline or cellular telephone, internet stream, mobile software applications, smart speaker systems, smart television systems, or from within the web3 itself. Efforts are ongoing by Metaverse Radio to complete network construction of its operationally connected radio stations dispersed throughout select metaverse platforms.
At the heart of Metaverse Radio's broadcast programming and greater multimedia activities is the belief that the Metaverse is, at its best, an international gathering place for humanity and that the official language of the Metaverse is music. A Limited Liability Company, Metaverse Radio bills itself as, "the future most accessible radio broadcast in human history." For more information visit www.metaverse.radio or follow on Twitter (Twitter.com/metaverse_radio) or Instagram (Instagram.com/metaverse_radio).
Metaverse Radio is a strong proponent for the use of Metaverse Cyber Time (MCT), the time zone now dedicated for the Metaverse (cf. www.MetaverseCyberTime.com).